In today's landscape, savvy customers are always in search of immediate answers to their queries while using a brand's products and services.
If you are a Salesforce Service Cloud user and you have your community hosted on Higher Logic, then you might be on the lookout for ways to provide your customers with ample information on your community, so that they can solve their queries on their own, without escalating a case.
So, how do you bridge the gap between your support teams and your customers? If only there were a connector to make this possible, wouldn't you say?
Our Higher Logic-Salesforce Case Connector enables you to cut down on support costs and costs per case, all the while helping you deliver a unified and holistic community experience to the customers.
How Does the Higher Logic-Salesforce Case Connector Work?
By integrating your Higher Logic community with the connector, you empower your Salesforce Service Cloud users to find information that they're looking for easily without having to escalate a query. Here's how you can do it:
1. Users can create a case on their Higher Logic community or SFDC.
2. The case gets created with the required details on SFDC.
3. Users can edit the case if required. Selective fields are available if users edit the case on SFDC. For Higher Logic, all fields are available.
4. Lastly, the case gets listed in the list of cases, both on SFDC and Higher Logic.
With this, your Salesforce Service Cloud users can easily create cases, edit them, re-open them, and more. Let's take a look at some of the advantages of our Higher Logic-Salesforce Case Connector.
Benefits of Implementing the Higher Logic-Salesforce Case Connector in Your Online Community
Customer communities are a great medium to listen to your customers. If you have a customer community, you must be well-aware of how helpful these communities can be in customer onboarding, addressing customer queries, and lowering escalation rates.
As the times are changing, customer's expectations are changing too, rising, in fact. Now, customers want assistance that facilitates product adoption and get the true value out of their investment in your product.
But is your community well-equipped to offer this kind of support to your users? Here's how our Higher Logic-Salesforce Case Connector can be the perfect match for your community:
Transparent Communication: The case connector enables users to obtain a holistic overview of the case created by them when it is transferred to the support personnel, ensuring complete transparency. The connector enables an uninterrupted bi-directional flow of data between Higher Logic and Salesforce Service Cloud which helps to optimize your online community.
Reduced Support Cost: The Higher Logic-Salesforce Case Connector helps in reducing the workload on your support teams by making it easier for users to locate specific information themselves, resulting in easy case deflection.
Real-Time Case Transfer: In case users have any product or service-related query, they can create a case and escalate it. The support personnel can transfer the case and case comments created by the user in real-time, leading to faster case resolution.
Premium Support and Maintenance: It's possible that your community could come to a halt due to an unforeseen challenge. Fret not, with the power to receive round-the-clock support and maintenance assistance from community experts, you'll be able to ensure the smooth functioning of your community.
Why is the Higher Logic-Salesforce Case Connector the Right Choice for Your Online Community?
Your aim as a brand is to generate awareness about your products and services and empower your customers to resolve any issues that they face while using your products in real-time.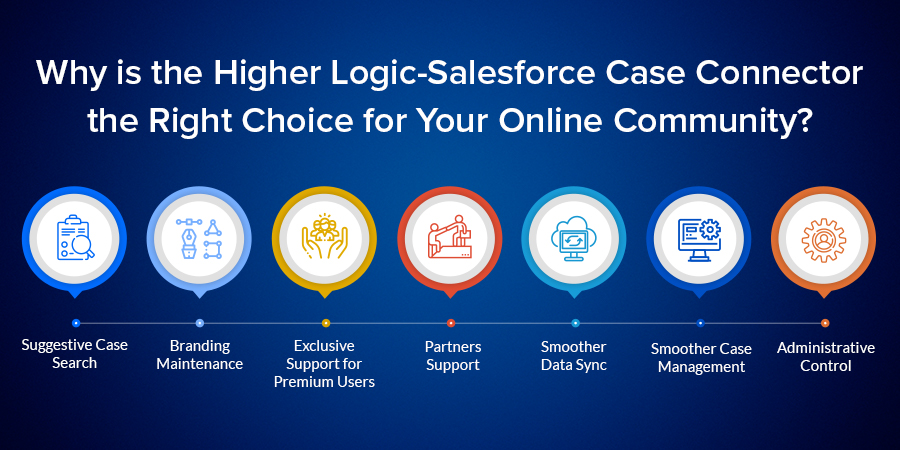 Here's what you can achieve by integrating your online community with the Higher Logic-Salesforce Case Connector:
Suggestive Case Search: The suggestive case search feature allows your users to filter through articles and get the most appropriate search results to resolve their queries, leading to increased case deflection and CSAT.
Branding Maintenance: You can ensure a consistent brand experience and deliver an enriched user experience to your customers by configuring forms, webpage layouts, color schemes, font styles & sizes easily while adhering to your brand guidelines.
Exclusive Support for Premium Users: Premium support allows you to offer your premium customers exclusive, 24×7 support access. This feature empowers your users to create cases easily and get on-time query resolution.
Partners Support: Enable your partners to deliver better customer service by allowing them to create and escalate cases in the absence of their customers.
Smoother Data Sync: The connector allows you to maintain transparency between your customers and support staff by creating a channel for uninterrupted bi-directional flow of information between the community users and the support personnel.
Smoother Case Management: With the Higher Logic-Salesforce Case Connector in place, your users can easily track and view case progress, closed case history, and the support team's comments on the case. They can also respond to the comments using a single screen. Cases can also be re-opened, edited, and closed again by the users.
Administrative Control: Different brands have different goals and needs. The connector's configurations can, thus, be modified and per the requirements of your business. The connector is highly dynamic and can be customized as per business needs.
Our Higher Logic-Salesforce Case Connector is ideal for providing prompt support to your Salesforce Service Cloud users. When you empower your users with the right information at the right time, you keep your customers coming back for more! And that's where our connector can help you improve your community experience.
Wish to know more about our Higher Logic-Salesforce Service Case Connector? Talk to us!
Level up on your community game with our custom solutions and connectors. To know more about our products and services, drop us a line at [email protected], and we'll take it from there.
Please click here to read the original article as posted on Grazitti Interactive.
We source the web to bring you best Salesforce articles for our reader's convenience. If you want to have this article removed, please follow guidelines at
Digital Millennium Copyright Act (DMCA)
..
…