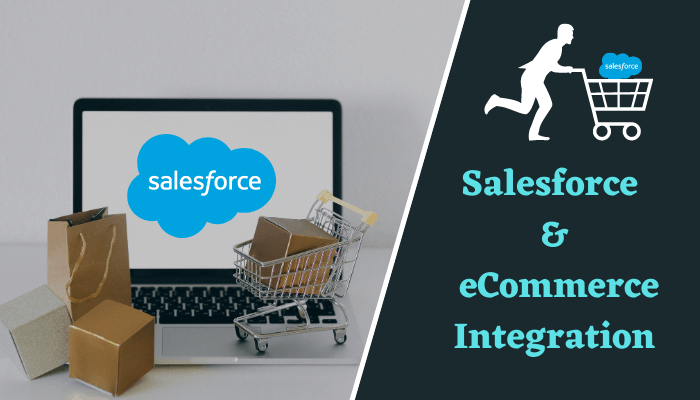 Nowadays, technology evolves as we shop online. Besides, online retailers are optimizing various channels to connect with their customers. eCommerce websites, online marketplaces, social media, etc. are optimized to ensure a flawless shopping experience for the customers.
So, to make your businesses the winner of this game, online retailers need to implement CRM eCommerce integration.
Today, we are here with the entire necessary information that's important for you, being an eCommerce business owner. We will let you know what's the importance and need of integrating Salesforce and eCommerce. So, let's get started.
What Does Salesforce Commerce Cloud Do?
When we talk about today's world of cloud computing, the need for everlasting growth for every enterprise is the constant transformation of planning, implementation, marketing, and sales strategies.
On the internet, today, 2.6+ billion people are found searching for products and services they need. This clearly states that every business which is very keen to grow and progress should emerge with matchless products and services, along with a robust online presence to delight the customers. And at this moment, Salesforce Commerce Cloud comes into play.
In this era of customer relationship management services, products, and capabilities, an undisputed leader, Salesforce Commerce Cloud arrives when it comes to scalability, agility, and operations.
A complete cloud-based and future-proof eCommerce platform, Salesforce Commerce Cloud assists enterprises in creating engaging and smart shopping experiences for their customers all across a series of channels, that includes social, web, mobile, but is not limited to these.
Salesforce Commerce Cloud offers a power-packed stack including outstanding functionalities and features using which enterprises can connect with potential and existing customers at all the stages of the sales funnel.
Moreover, Salesforce Commerce Cloud allows perfect customer service and support all across a wide range of platforms and channels. Besides, it assists enterprises in using omnichannel insights to deliver and analyze effortlessly user engagement and behavior across all channels.
The in-built predictive intelligence of Salesforce Commerce Cloud makes it stand uniquely in front of other cloud-based eCommerce platforms. One of the most powerful and advanced in-built predictive intelligent systems, Einstein AI from Salesforce assists enterprises in delivering matchless shopping experiences. This is achieved by identifying and offering smart insights on purchasing patterns and behavior of customers taking along the selling opportunities all across distinct untapped channels.
Salesforce Commerce Cloud B2B & B2C
Be it the organization or retailer, Salesforce offers what's important for the growth of a business to make it reach the successful end of the supply chain ladder. If you notice, the interesting thing here is the CRM giant that provides two-fledged eCommerce solutions known as Salesforce B2C Commerce and Salesforce B2B Commerce.
Retailers and organizations use such solutions to handle order fulfillment, analysis, data management, content, analysis, marketing, customer service management, and more.
Why Should Businesses choose Salesforce eCommerce Integration?
Well, about 74% of users accept that their CRM system offers them enhanced access to customer data. This has allowed the businesses to pick Salesforce eCommerce Integration to deliver a streamlined and enhanced insight for B2B and B2C Marketing.
So, now we will check out why a business should pick Salesforce eCommerce Integration, and what are the benefits it will get by performing this.
The retailers get a centralized location of their customer data through Salesforce CRM e-commerce integration. This improves all marketing activities starting from targeting until execution.
After your customer receives highly personalized email marketing, this kind of selling is possible only with CRM. It lays an immediate impact on your online store income.
When you integrate eCommerce with Salesforce CRM, it enhances the customer experience in various ways. By offering inventory checks, status updates, and shipment tracking, your customers stay well-informed on when to expect their orders. Online retailers use omnichannel retail, Salesforce CRM helps them in collecting information related to their customers all across various channels.
Any store that uses sales representatives or customer service can take the advantage of Salesforce CRM integration. By accessing those customer details, including payments, orders, and viewed products, the sales team is allowed to cross-sell and upsell more effectively.
The same goes well for B2B eCommerce websites also whose sales teams can negotiate payment terms and make effective decisions based on the past payment history of a client.
With no Salesforce CRM system integration, your eStore is expected to experience various issues of simple data entry and typo errors. Manual data transfer may also lead to such issues that may directly affect customer loyalty and sales. Well, the simplest way to get rid of this is Salesforce CRM and e-commerce integration.
Better Inventory Planning and Forecasting
When used correctly, a Salesforce CRM system provides data related to popular, top products of your store. This allows you to utilize real sales data for forecasting sourcing, manufacturing, and sales purposes.
Moreover, it diminishes manual processing for process automation and automated data capture. Apart from automating processes, you will also become capable to lower down overhead and shorten time frames also.
With Salesforce eCommerce Integration you can integrate various channels from one platform. Even merchants can smoothen various operations starting from sales to order to inventory management. Also while strengthening operations across various platforms, reduces efforts, time, and price all at the same time.
All over the world, the number of mobile users who are shopping online is increasing daily. The need of offering a responsive and impressive mobile user experience may be important for every eCommerce store.
That's why it's essential for eCommerce website owners to provide a smooth shopping experience to mobile users with no hassle. And here Salesforce eCommerce Integration starts acting as it offers your mobile users an optimal shopping experience that helps in increasing your eCommerce revenue.
Internationalization of Storefronts
Besides Salesforce eCommerce integrations, no other platforms will permit you to target various platforms, locations at one time. This permits you to handle multi-language, multiple currency, and various storefronts and all at the same time lowering the effort of handling various invoicing, billing, and orders data all across various shared platforms.
Get all of your Customer Data in One Place
When you integrate customer service and support apps with Salesforce CRM it assists in smoothening the touchpoints of customer communication.
Let's take an example: In your company, if your marketing team uses MailChimp which is an email marketing tool, and your sales team and your customer service team uses Salesforce and your internal software, respectively, to respond to customer queries, then Salesforce integration will help you in integrating Salesforce and MailChimp easily along with your internal software and replies customers on time.
This eases the process for all these three departments of your organization enhancing complete efficiency.
When you integrate Salesforce with your business app, it increases the probabilities of enhancing functionality for your customers, making them stick with your business for an extended time.
The more you link with the tools they use regularly (like Salesforce,) the more important you become to their daily business that in revert increases efficiency and productivity.
Build Relationships and Grow Business Together
One holds the caliber to interact and make links with partners who are on an exceptional platform, Salesforce AppExchange, for an extended time to emerge with best practices and take the business to the next level.
What are the advantages of integrating Salesforce and eCommerce?
The in-built potential of Salesforce for eCommerce integration merge order management, digital commerce, AI-powered personalization, and store operations into a unified and shared commerce platform.
Below, we will discuss what we achieve by integrating eCommerce and Salesforce. So, let's get started.
Such integration helps in delivering AI-personalized, strategic shopping experience at all the touchpoints, on any device.
Also, it rolls out constant innovations with no dependencies, delays, or disruptions.
Moreover, eCommerce and Salesforce integration launch new websites in weeks and the new promotions in minutes.
Apart from that, it unifies digital commerce with order management, store operations, and more.
Furthermore, such an integration offloads IT operations to a unified cloud that is scalable, stable, and robust.
Also, eCommerce and Salesforce integration enhances productivity with automatic tasks and centralizes website management.
Moreover, it explores new regions easily and goes global within record time.
Well, Salesforce eases eCommerce integration, and with the progressive retail industry, Salesforce eCommerce integration holds the caliber to smoothen eCommerce operations from the discovery to the fulfillment and ahead.
This flawless eCommerce integration links mobile channels and offlines stores, allowing them to use eCommerce powers and services, such as merchandising and transaction management.
After going through this post, now you have got well-versed with the importance of integrating eCommerce and Salesforce and the entire benefits of such an integration. So, what are you waiting for now?
Without any delay, to reap the benefits of such integration, you should hire a leading Salesforce eCommerce Integration provider to start your Salesforce eCommerce integrated trip to take your business to a different level ahead.
Please click here to read the original article as posted on TechLogitic.
We source the web to bring you best Salesforce articles for our reader's convenience. If you want to have this article removed, please follow guidelines at
Digital Millennium Copyright Act (DMCA)
..
…